Fisheries
Pugwash sits on the dividing line between two fishing areas; therefore, it is the only place on Northumberland Strait with two seasons - May and June then again mid-August to mid-October. A number of boats fish out of Pugwash. Each boat carries a maximum of 300 traps. The viability of the fishing industry is dependant upon the numbers of lobsters available. In good years, the daily catch can be 10,000 lbs. In poor years, it can be as low as 2,000 lbs. During bad years, a license may cost $19,000 but in good years, the price can go as high as $100,000. Licenses have an annual renewal fee of $300. Lobster boats and equipment cost approximately $230,000. These are a few of the costs effecting consumer pricing. The Department of Oceans and Fisheries duly enforces strict fishing regulations. Lobster size is one of these. Canners must be a minimum of 76mm. Female lobsters from 115mm to 129mm is released back into the ocean for breeding stock. Market males have no restrictions on the size. On opening day, well-wishers line the wharf and the banks of Eaton Park to send the fishermen into what hopefully will be a successful season. Lobster! Sitting freshly cooked on your plate, well, that is a little piece of heaven. The Department of Fisheries and Oceans Maritimes region website.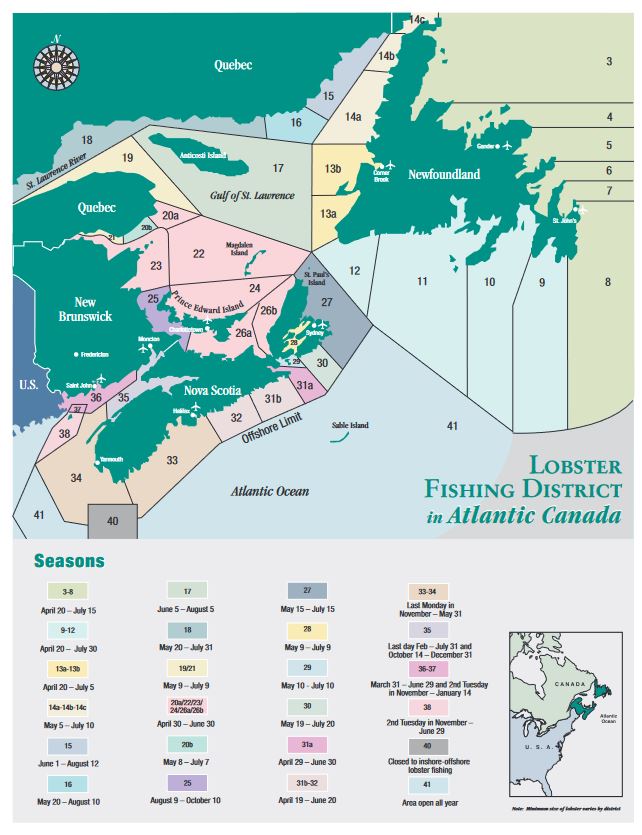 ~**~~**~~**~~**~~**~~**~~**~~**~~**~~**~~**~~**~~**~
Mining
Windsoe Salt Ltd. Pugwash is the only salt mine, and currently, the only underground mine in Nova Scotia. Josh Allen accidentally discovered salt in 1953 when drilling for water at his lobster factory. The Canadian Salt Company Ltd. hoisted the first load in November, 1959. Shafts go down to one thousand feet to huge working corridors (30' x 55'). These corridors are well ventilated and well lit. Most of the mine runs under the Pugwash River with some under solid ground. No mining operations run under the village. The company employs approximately 210 people. The processing plant at the site produces industrial grades of salt. The refining process for this industrial salt is one of crushing, screening and sizing. The mine produces approximately 1,200,000 tonnes of salt per year. The mine's lifespan is estimated in excess of 100 years, possibly longer with advanced technology. Transportation of salt is either by road or from the company owned ship-loading facility. From early spring to late autumn ships are common sites at the wharf. The Canadian Salt Co. Ltd. does not conduct mine tours. For more information about Windsor Salt in Pugwash, click here.
~**~~**~~**~~**~~**~~**~~**~~**~~**~~**~~**~~**~~**~
Forestry
Logging plays an important part in the local economy. Large companies, such as Irving and MacTara, are clear cutting thousands of acres of softwood (pulpwood) in the Pugwash area. These foresters stockpile logs in a pulp yard until ready to ship, then, trucks deliver the wood throughout the Maritimes. A truckload of pulpwood, in eight-foot lengths, weights approximately 30 tonnes and measures approximately 15 cords. Barges, carrying 2000 to 2500 cords take wood to Newfoundland. Forestry is a migratory industry and employment varies as logging companies move into and out of an area. While working in the area they employ as many as any as 500 people. When they move on, as few as 50 people will have work. Many people are employed not as harvesters but as tree planters. The Department of Natural Resources guidelines help keep the industry viable and maintain jobs for people who rely on the forestry for their livelihood. Two important guidelines are: harvesting on all woodlands must not exceed the capacity to grow timber and; the forester must help protect the forest environment and wildlife habitats. For more information about the Nova Scotia forestry, click here.
~**~~**~~**~~**~~**~~**~~**~~**~~**~~**~~**~~**~~**~
Pewter Manufacturing
Basic Spirit Basic Spirit, owned and operated by John Caraberis & Bonnie Bond, started in 2002. The company handcrafts fine pewter giftware that it wholesales throughout North America. Ten percent of the company's profits are returned to charitable organizations. The main office and production facility, located at 73 Water St., is not open to the public. Basic Spirit's retail outlet and Handcraft Gallery is located at 9828 Durham St. (Rte 6) in West Pugwash. The shop features a unique mix of fine handcrafts and gifts. It is open from May to December. Summer hours are: 9am to 7pm daily except for Sundays: 10am to 7pm. For more information please visit our website. Seagull Pewter Seagull Pewter, a Royal Solanger subsidiary, is a producer of fine quality pewter giftware and tableware. They are the largest pewter manufacturers in Canada. Their designs range from classical and traditional to contemporary and fun. Nova Scotia's coastline, flora and fauna inspire their designers. The Seagull Pewter retail store attracts thousands of tourists to Pugwash each year; many coming specifically to shop for Christmas. They come from across Canada, the USA and many other parts of the world.
~**~~**~~**~~**~~**~~**~~**~~**~~**~~**~~**~~**~~**~
Wood Products
Sunset Industries Sunset Industries is a most successful vocational program for mentally challenged people. The residents are trained and paid to manufacture wooden products: lawn furniture, household furniture, wooden pallets, etc. They also do contract work such as folding envelopes and cutting corrugated cardboard for local businesses. Sunset Industries employs twenty-six mentally challenged people. Sunset Industries opened in September, 1985. Even though government funding was not available, the then Administrator Dennis Brown implemented the program himself. For more information about Sunset Industries product line go to our website. ~**~~**~~**~~**~~**~~**~~**~~**~~**~~**~~**~~**~~**~ Arts and Crafts Farming Tourism